Our Move To Costa Rica: Day 1
Our Move To Costa Rica:

For many  it is a dream as it was mine for many years.
For my wife and me it is no longer a dream but a reality.
This blog is about the reality, the real down and dirty truth, the good, the bad, the ugly and the beautiful of MOVING TO COSTA RICA.
Below is the blog re our First Day in Costa Rica and you will find each of our first 90 days and MORE documented on this site. The reason for this little preamble is to inform you of 2 things before you go on:
This blog not only has the story of our personal journey but also a lot of valuable information about living successfully in Costa Rica.
As you read the posts re our 1st 90 days you will find just as the site says "The Good, The Bad, the Ugly and the Beautiful".
I pulled no punches in describing the bad and the ugly of those 1st 3 months as we struggled to set up our life here.

It was often very challenging.

But what I want everyone to know, before they read the negative aspects, is that WE GOT THROUGH ALL THESE CHALLENGES!

And once we did, things got a lot better! And now, almost a year later, as I write this little intro, I want all of you to know we are very glad we made the move! Things do get easier after the physical moving, the finding a car and place to live, getting your residency, buying insurance, going to RTV the first time, and so on!

Our move to Costa Rica turned out to be a great decision just as we always thought it would!
DAY 1 - NOV 1
So this is my blog about our move to Costa Rica...
You can read more about who we are on the About Us page, you can find out when and why we decided to move here, how we proceeded to do it and many more things on this web site ("MOVING TO COSTA RICA"). 
This is the Blog part, where I just give various and sundry details about our move from Day 1 to now. Basically this is a "diary" or "web log" of our move, which I updated more or less each day regarding our experiences since moving here.

This is what I wrote that first week when I finally had a chance to write after having spent day after day looking for a car and so on....
So here ya go:
______________
Everything is kind of a blur...
We arrived in San Jose international on Friday morning, Nov 30th, rented a car... and drove up to our finca about 45 minutes west of the airport, near San Ramon de Alajuela.

The car rental company gave us a brand new Daihatsu Terios with only 2km on it and I was not happy about that because I figured if they give us a new car and we bring it back with the inevitable scratches that occur when you drive a car on the back roads, they are going to try to charge us for the damage.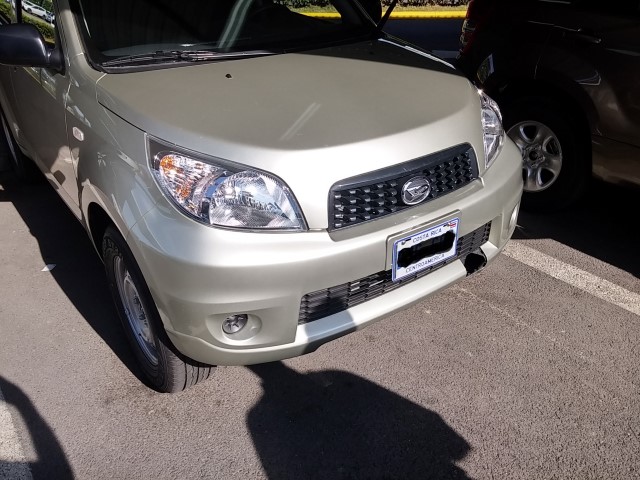 But as it turned out we had a different problem with it...

The car would not make it up the steep hill which we have to climb about 1km from our property. Joanie and I had to both get out and put rocks under the tires to try to get it unstuck from a pot-hole it stalled in.
I had to leave the car in neutral on this steep hill and hope the hand brake held as I got out of the car to help Joanie put rocks under the tires. We would put rocks under the tires, it would then make it about a foot or two before stalling again and we'd have to put more rocks under the tires. This went on for about 30 minutes in the hot morning sun.
Finally we made it but the car was over-heating and the car had NO power at all. We made it up to the finca though!
This isn't what we had in mind for our first day of our move to Costa Rica! But this is what we transplanted Americans in Costa Rica call a typical "Costa Rica adventure".
(Lesson #1:
Do NOT rent a Daihatsu Terios or Bego as they are also called, if you need a REAL 4x4 to go up and downsteep/rocky/muddy roads. Clue #1: A real 4x4 does not have a push button that takes you into 4 wheel drive mode, nor is it an automatic. A REAL 4x4 will have a manual gear shift knob next to the regular gear shift to take you in and out of 4 wheel drive mode!)

Anyway, we made it and having made it up the hill finally, I wanted to look over the building process and I wanted to show Joanie the new driveways I had made and see what progress they had made on the foundation of our little house - the house that would eventually solidify our move to Costa Rica!.
Our builder, or "maestro de obra" as they say here was there with a crew laying the foundation for our casita. And when i say "little house" I mean "tiny". The tiniest house I've ever seen. A cracker box as we say where I'm from. Seeing it laid out on the ground as a foundation with concrete blocks outlining the rooms, I was somewhat shocked at just how small it is. Even smaller than I had imagined.
But my new favorite saying is "It is what it is", meaning we have no power to change it and we have to accept things as they are.
After that I called my neighbor Jon (about 1/4 mile down the road) who said he had a house to rent us. We went over to his house but on the way I made a wrong turn into the wrong driveway and there was no place to turn around so we went quite a ways up a hill onto someone else's farm and then had to back up quite a ways before we could turn around.
Went a ways further down the road and found the right driveway and went up to Jon's house. He served us some of his own home grown coffee and then took us over to show us the house for rent.
Although it wasn't ideal for me because it had too-close neighbors, I decided to rent it anyway to avoid having to look for something better. And in any case the location within walking distance to our finca, could not be beat.
However it's unfurnished and he had agreed to furnish it for us and future renters, so we are now waiting for him to put in a refrigerator, stove, beds and washing machine. We'll have to provide our own bed sheets and stuff but we can of course take them with us when we get to move into our "casita" or "cabaña" as they say here.
So... mission accomplished - more or less - on the task of finding a place to rent. Meanwhile we are staying in another friend's home north of San Ramon - our place is west of San Ramon - about 30-40 minutes away on a basically good country road with a couple of rough patches that may require a 4x4 at times after a heavy rain or rains.
So now: the car buying task: (GO TO THE NEXT POST HERE of our Moving To Costa Rica blog: DAY TWO of our move to Costa Rica .)
"We keep moving forward, opening new doors, and doing new things, because we're curious and curiosity keeps leading us down new paths."
Walt Disney